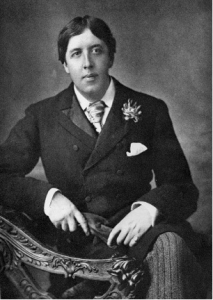 "I have always had grave suspicions that the basis of all literary cliques is a morbid love of meat teas. That makes them sadly uncivilised." –  Oscar Wilde

Oscar said that in an interview for The Sketch. However, at the Oscar Wilde Society we believe that we have never been regarded as a 'clique' and at none of our events, which are invariably the most civilised of occasions, has a meat tea ever been served. Indeed, many of our members are glad to say that they have never seen a meat tea.
Founded in 1990, The Oscar Wilde Society is a literary society devoted to the congenial appreciation of Oscar Wilde. It is a nonprofit making organisation which aims to promote knowledge, appreciation and study of Wilde's life, personality, and works. It organises lectures, readings, and discussions about Wilde and his works, and visits to places associated with him. The Society's peer-reviewed Journal of Oscar Wilde Studies, "The Wildean", is published twice a year. The illustrated Newsletter Journal "Intentions" is published about four times a year and members also receive E-Newsletters giving information about Society and public events.
Please explore the website for information on Oscar Wilde and The Oscar Wilde Society – our forthcoming events and how to join the Society.
To view a copy of the Society's constitution, please click here.